# 1 Paintball in the Middle East

Paintball is one of the top adventurous and safe sports where players compete using air pressured guns, which fire gelatin colored bullets. It's simulates the battle field in a very exciting and energetic way. The main equipment of the game are Markers (Guns), Paintballs (Bullets), Mask, Overalls, Protection Suit and Gloves. Adrenalin is the # 1 Paintball field in the Middle East and one of top 100 world wide in terms of number of players, Court sizes and quality.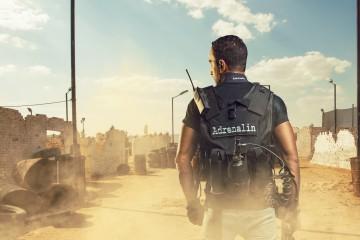 Armageddon Field
Inspired by the popular game Call of Duty, the court is full of demolished houses, burnt-down cars, tire bunkers, a helipad and a satellite' command center along with other objects which make the players feel the real urban street fight in a World War II destroyed city.
Size: 1800 m
Difficulty: Easy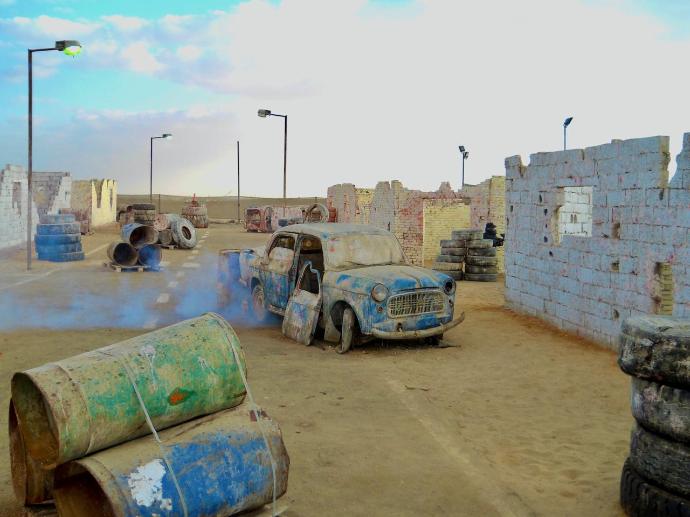 The Village Field
The Village field simulates Upper Egypt village with green trees, mud houses, a dry river and three bridges. The Village field offers a unique scenario that requires a more advanced strategy and tactic to win the game that's why it's a more advanced and difficult field.
Size: 1800 sq. m.
Difficulty: Medium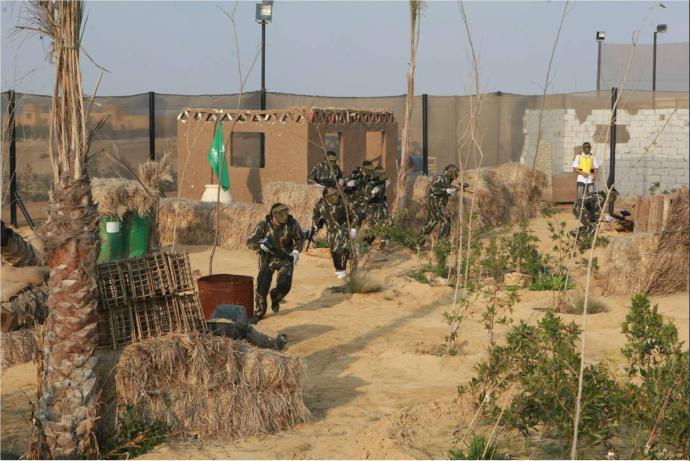 The Castle Field
The largest Paintball field in the Middle East 3,600 meter square, with a huge castle at the center of the field. This is the most challenging field, as you need to be continuously watching out for potential threat from all directions.
Size: 3600 sq m
Difficulty: Advanced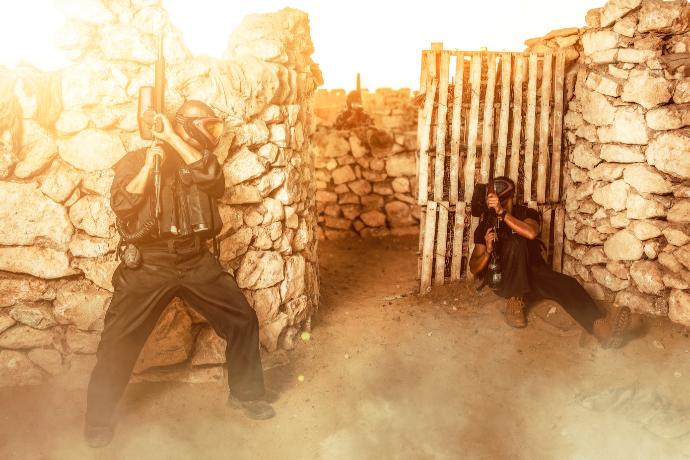 Elimination
Make sure to aim precisely till you eliminate the all the soldiers of the other team without running out of bullets!
Free for all
Every step counts while you don't have a teammate to get your back! every player is your enemy!
VIP/Helicopter Base
One player (VIP) is armless! The VIP guards should try to transfer the VIP from their base to the helicopter base safely!
Capture the flag
Take the enemy's flag, which is across the bridge on his side of the field and return it to your home while protecting yours!
Each team has to move their hostages from the enemy's base back to their own without getting hit .if a player is shot, the hostages have to stop in their place.
Domination
A mission that is especially created for the castle field! The winner is the team who dominates 3 out of 5 castles by the end of the game !